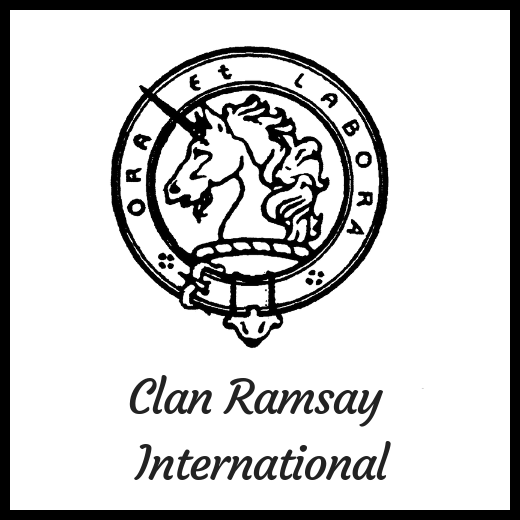 MEMBERSHIP
We encourage everyone who is interested in the great Clan Ramsay to join Clan Ramsay International.
It's easy!
What to Do
Fill out these two forms

Get Membership Form Get Pedigree Form

Fill them out on your computer* or print them and fill out in black ink.

Filling out the forms is easy with Acrobat Reader DC. Just click on "Fill & Sign" on the right side of the Acrobat window. Place the cursor in each field that needs to be filled in and fill in the field. When you are finished, you can print or save the file and send it in. If the words need to be smaller to fit in the form, just click on the little "A" that appears when you get a cursor to start filling things in.

Please do not combine the two forms when you are filling them out on your computer. It can cause the information to be garbled. Check your forms carefully before you send them in.

Pay your dues online (use the form below) or by check payable to Clan Ramsay International.
Send the forms—and check, if applicable—to the Membership Chairperson (see below).
Additional Information
Membership dues are $30 annually.
Members who would like a one-time search of our DNA Master Database can pay a one-time fee of $10.00. The total Membership Application fee including this research fee would be $40.
Pay $30 or $40 online or make your check payable to Clan Ramsay International
If you paid for the DNA search, we will notify you if we identify any possible matches in our DNA Master Database once your Membership Application and Pedigree documents have been received. We will advise you if a DNA test is recommended.
Benefits of Membership
Your dues gives you membership benefits for the year. If you join in the last quarter (Oct-Dec), your membership applies to the entire next year.
A subscription to our quarterly newsletter, the Ramsay Report.
Access to the Members Only section of the website. There you have access to the genealogy data submitted by members and to all our newsletters. (You will receive the username and password after your membership has been activated.)
Clan Ramsay Membership Chair
David F. Ramsey
434 Skinner Blvd Ste 105
Dunedin, FL 34698
727-409-4639